Alele Museum
Open Hours: Monday-Friday 9:00am to 4:00pm, Saturday 9:00am-12:00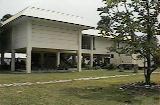 Alele Museum displays the exclusive, beautiful and interesting artifacts all originated in Marshall Islands. We rely on Membership, sales and contributions to keep our programs and research efforts vital and productive. We welcome your tax deductible gift, large or small.

If you have a chance to visit the Kwajalein Cultural Center in Kwajalein, you will see other beautiful artifacts from the Bogan Collection, as well as other collections.
JOACHIM DEBRUM COLLECTION:
This is a collection of printing of over 2,500 glassprate negatives which shows scenes of Marshallese life and landscapes during 1880 to 1930, taken by Joachim DeBrum. This is by far the most historically significant collection of materials to be found in the Marshall Islands, and within that period, perhaps anywhere in the Pacific (Sorry, no picture is available for now !!).

Shell Collection

BOGAN COLLECTION:
In 1994 Eugene Bogan graciously donated his collection
of Marshallese handicrafts made in 1940's to Alele
Museum. This is a memorial collection to Lt. Eugene
Bogan, a man whose love of the Marshalls began during
World War II and culminated in his contribution of
these rare and treasured items.

ITEMS FOR SALE:
The museum operates a small shop for the sale of local
handicrafts that offers T-shirts featuring Marshallese oral
history motifs, unique prints, postal first day covers,
original videotapes which introduces Marshallese
cultural heritage or current topics, and maps of the region.

For more information: go to Gift Shop

ACTIVITIES THROUGH MEDIA:
We aims to provide Majuro community with quality programs recorded on audio/video tapes for posterity, scripted in English and Marshallese language instruction. Subjects strech out from cultural events to oral literature, health education, environmental awareness, nature, and current affairs. Copies of the tapes are available to the public for a minimal charge(for more information, go toGift Shop ).

Script Marshallese oral traditional story from audio tapes, which appears on the "Marshall Islands Journal" in weekly basis
Broadcast 30 minutes radio program through RMI government radio station every Wednesday from 8:00pm to 8:30pm
Broadcast 30 minutes TV program through a local TV company, MBC(Marshall Islands Broadcasting Co.) on every Thursday from 7:00pm to 7:30pm at channel 9
Provide and update Web pages through the internet periodicaly, to spread our events, exhibitions, news, and general information of Marshalls for tourists, anybody who has an interest, as well as Marshallese who is in abroad.

PRESERVATION, PROMOTION:
We've been trying to promote and preserve Marshallese
culture through several activities as follows:

Recording of the traditional oral literature
Production of many video documentaries based on cultural and community themes and issues
Sponsor annual event, "Lutok Kobban Alele" (Cultural Festival) on the last week of September
Educational outreach activities which have brought more and more school children to visit the museum, and increased the general public's understanding of the importance of the preservation of our heritage, and the importance of Alele itself.